Interior Decorating
New Pickering Showroom - Now Open for Booking!
After more than 20 years of providing numerous in-home consultations, Pamela`s Ultrasonic Blind Cleaning and Window Coverings is now giving customers another convenient way to shop, with the opening of a new professional showroom in Pickering.
Pamela is a window covering specialist. Her supplementary qualifications as an interior decorator and stager have become proven assets for clients who are looking to enhance their living environment. Believing windows tcan also be a focal point of a room, Pamela's position is that window coverings should be both decorative and practical, and that a room should be designed to suit your taste and personality. This is often achieved by including stunning colors and finishes. She believes that it's crucial to balance these important elements for a successful décor scheme, which in turn result in a sound investment. Yet there are other considerations as well. For example, do you want light, privacy, or to eliminate drafts? And if you have young children at home, then safety with blinds becomes highly important.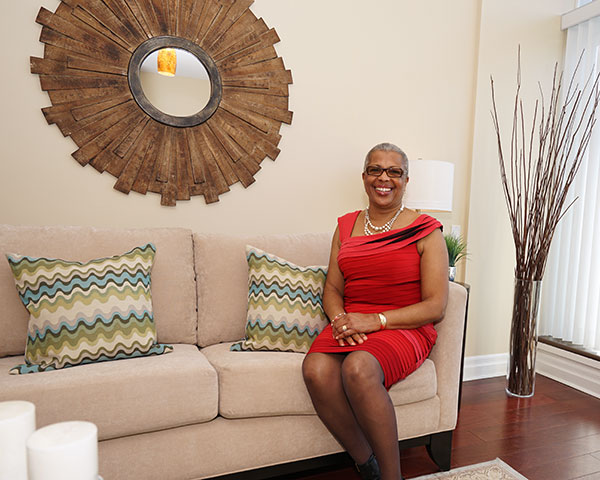 Stylish dual shades, roman, cellular shades, room darkening blinds, and Shadow Magic, can add a touch of elegance to your home. Wooden blinds, shutters, and drapes augment richness and warmth. In short, these products provide superior performance and durability, enhancing the value of your property. Meanwhile, the simplicity of vertical blinds can be a minimal addition. The list of how you can dress your window is endless!
Whether your style preference is sophisticated or whimsical, modern or luxurious, working with Pamela, you'll get helpful ideas to create the right mood and a lasting impression.
Although the window covering specialist still provides in-home consultation, her showroom is a convenient alternative when you're looking for options.
From the moment you enter the aesthetically pleasing reception area, you`ll be visually stimulated, and eager to consider selections for your personal décor. The space is both welcoming and relaxing – a perfect environment to view an abundance of fabric samples and styles. Pamela encourages clients to bring in pictures of window treatments they like. And even though Pamela and her team will take the measurements in the home, having an idea of window size can be helpful when visiting the showroom.
For added convenience you can schedule an appointment either by phone or directly on the website. In either case, you can reserve your personalized consultation in advance. The showroom, with a wide variety of products, is conveniently located steps from the Pickering Town Centre. That makes it easy to use your time efficiently, knowing that you can accomplish much in a short time.
But even if you live outside the area, Pamela assures you that it will be worth the drive to her showroom, at 600 Granite Court, Unit 216 in Pickering Ontario.
Showroom visits are by appointment only
To book a showroom viewing or a consultation, click here or call:
Local 905-839-3693
Toll Free: 1-888-298-7325